Find the best family beaches on Corfu island.
Best family beaches on Corfu: 03/05/2019
Corfu, one of those islands that has a rich history that can be traced to Ancient Greece. Corfu is located in a strategic position at the entrance of the Adriatic Sea and has its roots in the 8th century BC. The three forts of the Corfu town, designed by Venetian engineers, were used for 400 hundred years to defend the maritime trading interests of the Republic of Venice against the Ottoman Empire. In the course of time, the forts were repaired and partly rebuilt several times, more recently under British rule in the 19th century. This is considered to be a gorgeous Greek paradise, and as a result, the island has visitors from all over the world. There are plenty of beaches, and many of them are family friendly.
On this article, you can find some of the best family beaches on Corfu island.
Paleokastritsa Beach
In Greek, Paleokastritsa means "old fortress". One look at the towering Monastery of the Virgin and visitors will understand why this spot was once the home of an ancient fortress standing guard over the idyllic coastline and its peoples.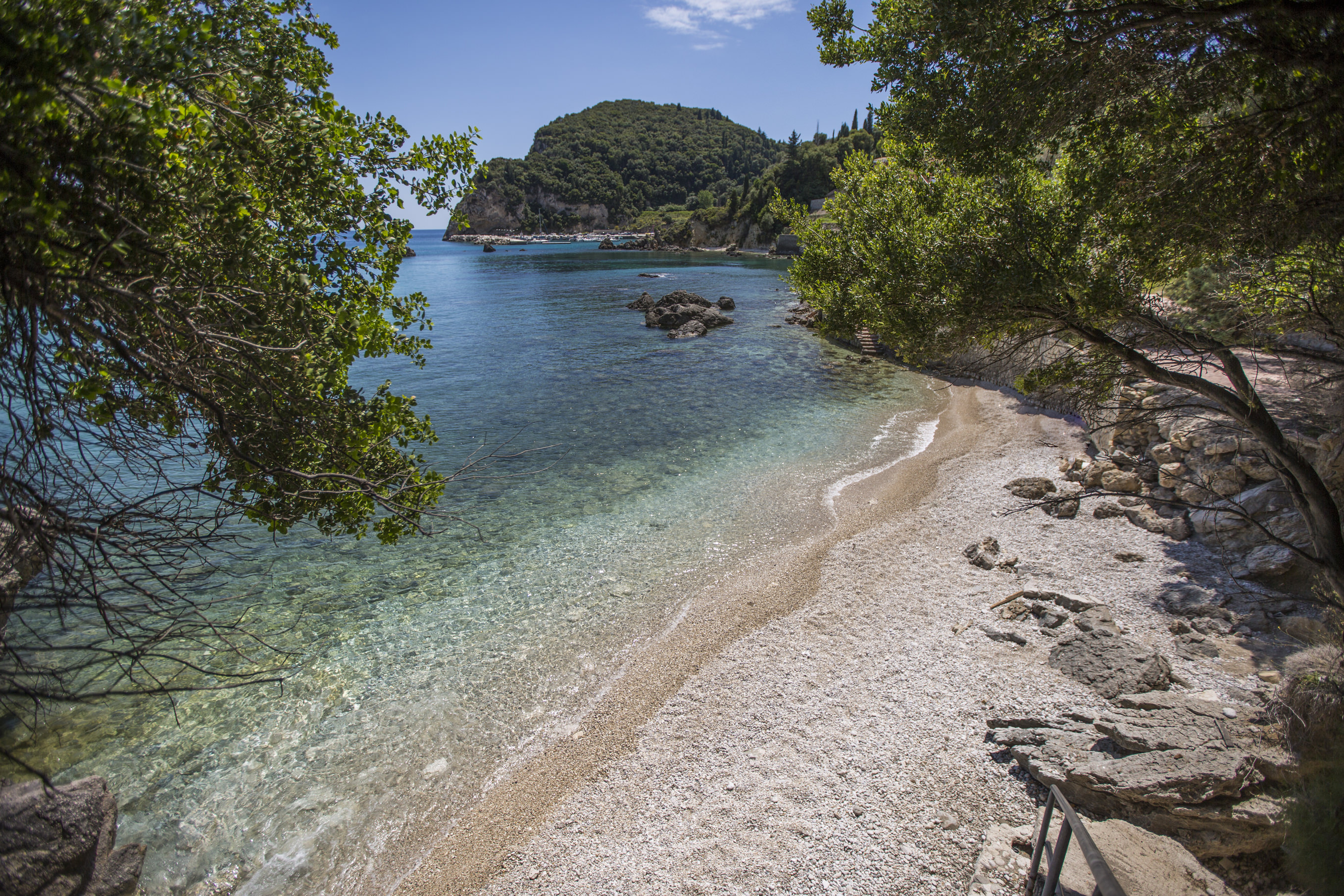 ---
Beach Marathias (Agia Barbara) Beach, Corfu, Greece.
The coast southeast of Korission lagoon (limni korission) forms an uninterrupted sandy beach divided into various sections.  Contiguous Marathiá and Agía Varvára (aka Santa Barbara, Maltás, Martás) have only a little stream (pedestrian ford) separating them, but a rather different feel: Marathiá is broad but shortish, Agía Varvára more linear. The sand is medium-packed but golden, the offshore water pristine if sometimes wave-y (which delights boogie-boarders). Marathias is fine for a beachside lunch, doing yummy sardines and perfect chips.
---
Agios Gordios Beach, Corfu, Greece.
Located on the west coast of Corfu, this isolated beach is named for the church that sits in the center of the sandy shores. The protected cove is perfect for young swimmers just getting their sea legs. The 0.6-mile long beach offers a safe place for kids to frolic in the water thanks to its distance from the traffic of the village. Water sports equipment rental will keep kids of all ages busy all day and a number of convenience facilities make this an easy day trip.
Agios Gordios Beach, Corfu, Greece VIDEO
---
Gardénos (Paralía Gardénou) & Megáli Lákka Beach, Corfu, Greece.
The last really big southwest-coast beach before the end of Corfu at Asprókavos, Gardénos offers clean, five-star sand at the end of a long, lush agricultural valley. There's 2km and more of it, together with adjacent, cliff-backed Megáli Lákka just southeast; on the northwest, the beach ends at a tiny fishing port with perhaps five boats anchored at any given moment.
Who goes?
Solitude-seekers – something to be had here except at peak season, when two or three sunbed concessions (with showers) operate. Families with young children will be happy to find that the sea shelves gently, especially on the southeast.
What is there to do?
Besides jog, swim or just flop on the sand, a little shack on the left bank of the stream rents kayaks, pedalos, paddle-boards and a few windsurfers by the hour.
---
Agios Georgios Pagon Beach, Corfu, Greece.
Corfu has two beach villages both called AGIOS GEORGIOS; one in the south and this one in the northwest also called SAINT GEORGE PAGON because of nearby PAGON village.
While the main commercial beach and village are not very special the smaller beaches and nature walks nearby are indeed very special.
There is a splendid walk to and from Paleokastritsa with some secluded bathing spots.
West of Agios Georgios is the beautiful double bays of PORTO TIMONE and AFIONAS and ARILLAS VILLAGES.
Scenically bracketed between Cape Arilla and palisades culminating in Angelókastro, two-kilometers stretch of beach in Corfu's far northwest is never completely packed out even in peak season. The water at the northwest end away from the stream mouth- off contiguous Afiónas beach– is reputed to be some of the cleanest in this part of Corfu. Lovely warm water, Sandy beach, award-winning blue flag, in a superb bay with the smoother entrance to the southern side. It is a well-appointed beach with numerous taverns and beach bars. For the more active, we recommend a lunch walk through the village of Afionas and the beach of Timoni. There are 2 very good taverns on the top of the cliff. Free parking near the beach.
---
Glyfada Beach, Corfu Greece.
As one of Corfu's most beautiful beaches, these sandy shores and crystal waters are located just ten miles west of the hub of Corfu town. The soft sand is surrounded by towering cliffs and rock formations, providing a spectacular backdrop to any day at the beach. A host of taverns offers the perfect spot to cool off with lunch and a drink. Lounge chairs and umbrellas are available for guests, making this an ideal spot to soak up the sun when traveling with children. A  beach with stunning views and an idyllic setting. Sandy beach, wonderful crystal green-blue clear water. Choose the right-hand side to enjoy a peaceful and relaxing time. Of course, there organized spots on the beach.
Visit Corfu! Contact us now and stay at the best beachfront villa in Corfu island Greece, in the best price you can find online!
[email protected] or just fill the form in our contact page here